In the past
(a few years ago)
, the name Lily Cole wouldn't ring a single bell in my head unless you
(are that bothered.)
tell me who she is in detail. However, if you were to ask me about "the face" on Moschino "I Love Love" ad, I will go "oh yes, that's her?"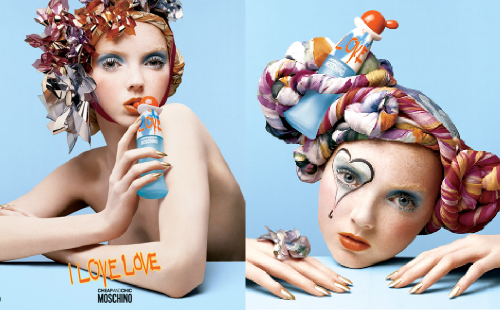 That's the problem with beauty ads. Now go pick up a fashion magazine like Vogue or Glamour and flip to a Lancome or a Valentino print ad. Do you see any headings or fine prints that says anything close to "model: lily cole" ? No, they neither credit the model nor do they credit the photographer.
Maybe they feel that "YOU SHOULD KNOW", "YOU SHOULD RECOGNISE!
(sometimes, it's hard to recognise with their thick makeup and styling!)
or "THAT'S NOT IMPORTANT!.. please look at what I am selling!"
So, since one will not know who is the face behind each ad campaign, unless there's a write up on the model, or it's someone as prominent like Nicole Kidman or Sarah Jessica Parker in her perfume ad or you decided to do "research" like what I did, you have to GO FIGURE.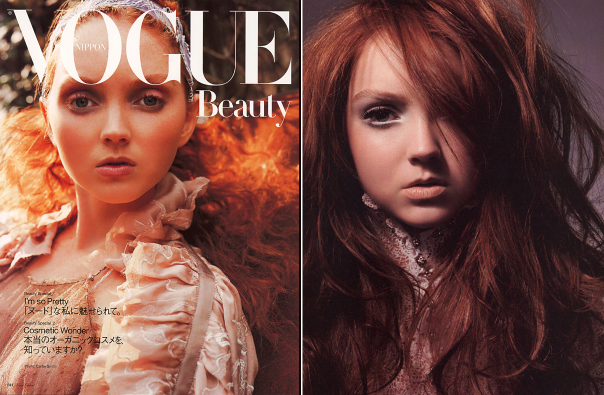 Lily Cole was born in Torbay, England on May 19, 1988 and raised in London. She and her two siblings were raised by an artistic mother. A chance encounter began her modelling career when she was fourteen. She was walking through the streets of Soho after a hamburger with friends when scout-turned actor Benjamin Hart approached her. Lily ran, fearing she was being chased by 'some dodgey guy' but after being asked if she considered modelling she accepted and was signed on with Storm Models, the mother agency of supermodels such as Kate Moss and Cindy Crawford... -source

supermodels.nl/lilycole



Anyway, now that I know who Lily Cole is, I am absolutely in love with every single photograph of her. She has a very unique look that is absolutely dollish, almost surreal. I wouldn't call her beautiful, but she does have a face that is very versatile and she looks absolutely stunning in all her ads.
What do you say?

See more of Lily Cole
Gallery.lily-cole
- a fan site with a constantly updated photogallery + archives, media and more.
HFGL
- a collection of photographs from ads, covers to editorials.